SPECS-
Alternative Designations: Garand
Country of Origin: USA
Date of Introduction: 1936, M1
Caliber: 0.30 in (7.62 mm)
Cartridge: .30-06 Springfield
System of Operation: Gas
Weight: M1: 9.5lb (4.3kg) | M1D: 11.75lb (5.3kg)
Length: M1: 43.6in (1,107mm) | M1D: 46.125in (1,172mm) With T-37 flash-hider
Barrel Length: 24in (610mm)
Barrel Rifling: R.H., two grooves (Four, older rifles), pitch 1 in 10 inches (254mm)
Safety Features: Manual safety lever
Trigger Pull: M1: 5.5 - 7.5lb (2.5 - 3.4kg) | M1d: 4.5 - 6.5lb (2.0 - 2.9kg)
Magazine Capacity: 8 rounds

PERFORMANCE-


Rate of Fire: 16 - 24 rds/min, aimed
Muzzle Velocity: 2,750 - 2,800 fps (838 - 853 mps)
Maximum Effective Range: M1: 500yd (457 m)  | M1D: 800 - 1,000yd (732 - 914m)
DESCRIPTION-
The Ml Garand is an air-cooled, gas-operated, clip-fed, semiautomatic, .30 caliber shoulder weapon. This means that:
air cools the barrel
the power to cock the rifle and chamber the succeeding round comes from the expanding gas of the round fired previously
the rifle is loaded by inserting a metal clip (containing a maximum of eight rounds) into the receiver
the rifle fires one round each time the trigger is pulled
The M1 was replaced by the M14 rifle in U.S. service.
Ammunition is loaded into an 8 round clip, which is inserted, en bloc, into the magazine.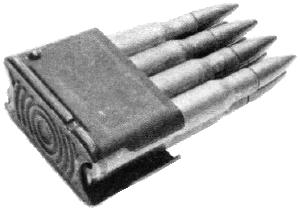 .30 M1 Tracer
.30 M1 Incendiary
.30 M2 Armor Piercing (AP)
.30 M2 Ball
.30 M3 Rifle Grenade Cartridge
.30 M14 Armor Piercing Incendiary (API)
.30 M25 Tracer
.30 M40 Dummy
.30 M72 Match
.30 M1909 Blank